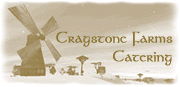 Life Imitating Art
exerpt from The Joy of Cooking

--by Ramen, Head Chef




At last, bring the delightful recipes of Dereth to your table! Cragstone Farms proudly presents these actual recipes for many of Dereth's finest delicacies!

Menu
Carol's Carrot Cheese Soup
Green Tea Ice Cream
Pumpkin Soup
Stuffed Grape Leaves
Spiced Apple Pie


--------------------------------------------------------
Carol's Carrot Cheese Soup
source: Canadian Living Magazine, vol 17, no 1, january 1992
This is the real deal, folks. A big thank you to Carol for providing the actual recipe that inspired Carol's Carrot Cheese Soup! Soup is good food!

Rich and creamy, yet using no cream, this soup is full of Cheddar flavor, which is particularly good if it's nippy old Cheddar.

1 tbsp vegetable oil 15 mL
1 onion, chopped
6 carrots, chopped (1 lb/500g)
5 cups Chicken Stock (1.25 L)
2 tbsp rice 25 mL
1 tsp Worcestershire sauce (5 mL)
1/4 tsp dried thyme (1 mL)
1 bay leaf
Dash hot pepper sauce
Pinch pepper
1-1/2 cups 2% milk (375 mL)
1 cup shredded old Cheddar cheese (250 mL)
Salt (optional)

In large saucepan, heat oil over medium heat; cook onion, stirring occasionally, for 5 minutes. Add carrots, chicken stock, rice, Worcestershire sauce, thyme, bay leaf, hot pepper sauce, and pepper; bring to boil. Reduce heat to low and simmer for 25 minutes or until carrots are tender; discard bay leaf.

In blender (for smoother soup) or food processor, puree soup in batches; return to pan. Stir in milk (Recipe can be prepared to this point, covered and refrigerated for up to 24 hours or frozen in airtight container for up to 2 weeks; thaw before continuing)

Bring to simmer, stir in Cheddar cheese and cook over low heat, stirring, until melted. Taste and add salt (if using.) Makes 4 servings. PER SERVING: about 310 calories, 18 g protein, 17g fat, 23 g carbohydrate, excellent source of calcium.

--------------------------------------------------------

Green Tea Ice Cream
source:FoodTV.com (Emeril Lagasse)

The pinnacle of hearty healing goodness! The health-conscious chefs at Cragstone Farms adjust this recipe to use 3 cups of half and half (instead of the milk and cream), 1 cup of sugar, and just 2 egg yolks. A catering shortcut is to use 6 regular green teabags instead of messing with loose leaves.

8 large egg yolks
3/4 cup plus 2 tablespoons sugar
Pinch salt
1 1/2 cups whole milk
1/2 cup loose green tea
2 1/2 cups heavy cream

In a large bowl beat the egg yolks with the sugar and salt. Set aside.

In a heavy saucepan, scald the milk. Remove from the heat. Add the tea, cover and steep for 4 minutes. Strain through a fine mesh sieve into a clean pot, pressing with a rubber spatula to extract as much liquid as possible. Add heavy cream and bring to a simmer over medium-high heat. Ladle 1/3 of the cream mixture into the eggs and whisk well to combine. Add all the egg mixture to the pot and cook over low heat, stirring, until thick enough to coat the back of a spoon, about 5 minutes.

Strain through a fine mesh sieve into a clean container and cool in the refrigerator, about 2 hours.

Pour into an ice cream maker and process according to the manufacturer's instructions. Transfer to a plastic container and keep in the freezer until ready to serve.

---------------------------------------------------------

Pumpkin Soup
There are many variations, both sweet and savory, to this dish. The following is a CFC favorite

1 pound bag of frozen cubed pumpkin or squash
4 tablespoons melted butter
Salt and pepper
1 cup chopped onion
1/2 cup chopped carrots
1/2 cup chopped celery
4 cups vegetable broth
1 potato, cubed

Saute onions, carrots, and celery in butter. Add broth, pumpkin cubes, and potato. Simmer until the potato and pumpkin are tender.

Blend the soup in a blender. Salt and pepper to taste.

-------------------------------------------------------

Stuffed Grape Leaves
source:Ziyad.com (submitted by Empath)

A classic of ancient Ispar!

8 oz. preserved grape leaves
1 onion, finely chopped
1/2 bunch scallions, trimmed and finely chopped
1/4 cup fresh chopped parsley
10 large mint sprigs, chopped
finely grated zest of 1 lemon
1/2 teaspoon crushed dried chiles
1 1/2 teaspoons fennel seeds, crushed
scant 1 cup long-grain rice
1/2 cup olive oil
2/3 cup plain yogurt
2 garlic cloves, crushed
salt
lemon wedges and mint leaves, to garnish

Rinse grape leaves in cold water. Put in a bowl, cover with boiling water and let stand for 10 minutes. Drain thoroughly.

Combine the onion, scallions, parsley, mint, lemon, chiles, fennel, rice, and 1 1/2 tablespoons of the olive oil. Mix thoroughly and season with salt.

Place a grape leaf, veined side up, on a work surface and cut off any stem. Place a heaping teaspoonful of the rice mixture near the stem end of the leaf.

Fold the stem end of the leaf over the rice filling, then fold over the sides and carefully roll up into a neat cigar shape.

Repeat with the remaining filling to make about 28 stuffed grape leaves. If some are too small, patch 2 together to make leaves that are the same size as the others.

Place any remaining leaves in the bottom of a large heavy saucepan. Pack the stuffed leaves in a single layer in the pan. Spoon on the remaining olive oil and add 1 1/4 cups of boiling water.

Cover the leaves with a small plate to keep them submerged in the water. Cover the pan and cook over very low heat for 45 minutes.

Combine the yogurt and the garlic and place in a small serving dish. Transfer the stuffed leaves to a serving plate and garnish with lemon wedges and mint if desired. Serve with the garlic yogurt.

---------------------------------------------------------

Spiced Apple Pie
source: Jeran


The actual recipe that inspired Spiced Apple Pie!


One double pie shell, either commercial or homemade (I've had good luck with Pillsbury)
1/2 cup (110 g) brown sugar
1 Tbsp cornstarch
2 1/4 tsp cinnamon
1/8 tsp nutmeg
Four large baking apples (Northern Spy or other), or six normal apples (Cortland, Granny Smith, other; avoid the Delicious varieties as they turn to mush when baked)
Butter
White sugar


If you're dealing with a refrigerated commercial pie shell, take it out and let it thaw on the counter. Alternately, put it in the microwave briefly (the box will usually have instructions). Put the bottom crust in an ungreased pie pan. Set your oven to 450 F.

Mix the brown sugar, cinnamon, nutmeg, and cornstarch together in a bowl. Set aside. Peel, cut, and core the apples; put the pieces in a bowl. Add the brown sugar mixture, stir to coat, making sure there are no large lumps of brown sugar.

Pour the filling into the bottom pie shell, try to pack it as densely as reasonable without damaging the pie shell. Dot the filling with butter. Wet one finger and wipe it around the top of the bottom crust. Put the top crust on and pinch it down. Trim the excess. Poke holes in the top crust with a fork. Wet your hand and wipe it over the top crust, just enough to get the top damp so the sugar will stick. Sprinkle a good-sized silverware spoonful of white sugar on top. Put in the oven. After 10 minutes, reduce the oven temperature to 350 F, bake for another 35 minutes. Let cool on a rack.

Notes:
A mechanical apple peeler-corer-slicer is an amazingly handy device to peel, core, and slice the apples. Spike the apple on the end of the threaded rod, turn the crank, and you have a spiral-cut, peeled, cored apple. Clean up the bits of peel it missed, check the center for seeds, cut the apple into quarters, and you're done. Quick and easy.
I'll usually make a large number of pies at once. My largest mixing bowl is just big enough to easily stir one pie's worth of filling without slopping everywhere. I'll mix up one batch of filling, load the pie shell, put the pie in the oven, and immediately start the next pie. (Yes, I have lots of pie pans.)
This pie recipe inspired the Spiced Apple Pie in the game Asheron's Call.

---------------------------------------------------------
COMING SOON: Guiness Beef Stew and the recently rediscovered Fruitcake!