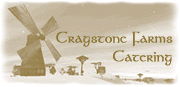 Gift Baskets
The perfect way to show you care! We offer several distinct themes, and will work with you if you wish to customize!

The process for choosing a basket is simple:

1. First, choose the restorative property of the food: health, stamina, or mana? You can even mix and match some of each.

2. Based on the class and level of the recipient, we will choose corresponding trinkets and gems to fill out your basket.

3. Choose one of the styles listed below, or if you want something completely different, let us know what you are looking for.

4. Contact us with the above information. We will start creating your basket, and work out delivery details.

Each basket comes with at least 7 foods, from the lists below. We add other appropriate "treats" to make your basket unique.

| | | |
| --- | --- | --- |
| Name | Description | Cost |
| The McCFC Breakfast Meal! | Start your morning off right with yummy eggs, toast, and sausage, washed down with orange juice and coffee! We at CFC realize that the adventurer on the go does not always have time for an elegant meal, so we now offer this faster food. | 5000 p. |
| Gourmet | A collection for the discriminating palate. Well-aged wine and cheese, fine tart apples, and delicious cake make this a great choice for a classy picnic or romantic dinner for two. | 10000 p. |
| Treats and Sweets | Our finest cakes, milk and chewy cookies, and dessert pies. Decadent and delicious! | 10000 p. |
| Aluvian Kitchen | Classic comfort foods including chunky stews, chicken pot pie and apple pie. | 10000 p. |
| Tavern Assortment | Pizzas, ale, fried mushrooms, and cake highlight this party time favorite. | 10000 p. |
| Fruits of the Desert | From exotic lands comes this sampler of Gharu'ndim delicacies, including rich palm wine, rabbit dishes, and apples from faraway Yaraq. | 10000 p. |
| Sho Banquet | An assortment of authentic Sho dishes including noodles, sushi, kimchi, and rice. | 10000 p. |
| Vegetarian Feast | In the interest of addressing diversity in eating, we now offer this healthful basket, brimming with the bounty of the soil. | 10000 p. |